The report "Aquafeed Market by Species (Fish, Crustaceans, and Mollusks), Ingredient (Soybean, Corn, Fishmeal, Fish Oil, and Additives), Lifecycle (Starter Feed, Grower Feed, Finisher Feed, and Brooder Feed), Form, Additive, and Region – Global Forecast to 2025″, The global aquafeed market is estimated to be valued at USD 56.0 billion in 2020. It is projected to reach USD 71.6 billion by 2025, recording a CAGR of 7.2% during the forecast period. The global aquafeed market has been influenced by some of the macroeconomic and microeconomic factors witnessed in some key countries. This would prove strong enough to drive the market significantly in terms of value sales during the forecast period. China, Norway, Vietnam, and Thailand are the key fish producers as well as the largest exporters of fish and fishery products. The global consumption of seafood has increased due to the rising awareness about the health benefits of consuming fish and other aquaculture species. They are a rich source of vitamins, minerals, amino acids, and essential fats (long-chain omega-3 fatty acids).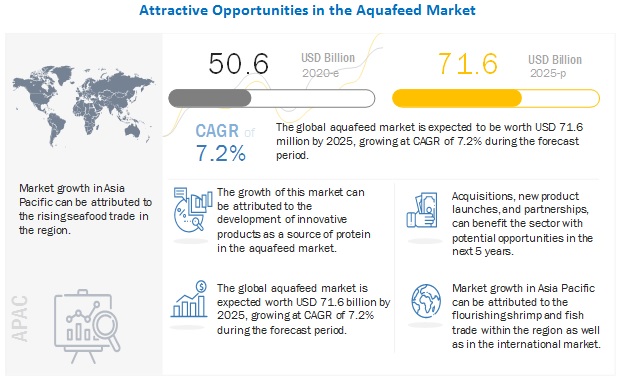 Download PDF Brochure @ https://www.marketsandmarkets.com/pdfdownloadNew.asp?id=1151
Processed soybean is the worlds largest source of animal protein feed.
Soybean is among the non-fish sources of omega-3 fatty acids, proteins, and unsaturated fats. Soy protein is fed to farm-reared fish and shellfish to enhance their overall growth and development. Some of the commonly used soybean products in aquafeed include heat-processed full-fat soybean, mechanically extracted soybean cake, solvent-extracted soybean meal, and dehulled solvent-extracted soybean meal. According to the USDA, processed soybean is the worlds largest source of animal protein feed. Soybean isolates and different varieties of genetically modified soybeans are being introduced to replacing fishmeal, which is a rich source of amino acids.
Feed enzymes aid in nutrient absorption due to which its application is growing in feed
Enzymes are biological catalysts that help to lower feed costs and reduce phosphorus content in animal waste. Feed enzymes are widely used to improve the nutritive value of feed by regulating various metabolic reactions. Enzymes increase the digestibility of nutrients in feed, which leads to an increase in the efficient production of various animal products. The demand for feed enzymes is increasing, as they are used for the development of the immune system and bones of aquatic animals. Feed enzymes enhance the growth of animals by weight gain and the quality of output.
Oysters and mussels are the most widely cultured groups under mollusks
Mollusks serve as a good source of protein. Their shells have industrial as well as ornamental uses. Along with harvesting mollusks from natural fisheries, they are also cultured in artificially controlled environments to protect them during storms and wind, and to increase their productivity. Various factors, such as nutrient composition, rapid growth rate, mass culturing, stability in temperature & light, and easy digestibility, are considered before using certain species of microalgae as feed. The market for mollusk feed is growing slowly due to slower adoption and the high cost of feed. The research activities to find cheaper alternative sources of algae are expected to drive the slow-paced market.
The free-flowing structure and consistency of the dry aquafeed makes it a preferred form
The feed for fish is most commonly available in the form of pellets or granules, and usually contains moisture of approximately 7%–13%. Most aquafeed manufacturers adopt the use of the dry form of feed due to its free-flowing structure and ability to provide consistency. This form of feed is also preferred due to other factors, such as ease of transportation, storage, and convenience associated with it, as opposed to the liquid form, which requires specialized facilities for storage and transportation. It can be purchased in bulk and is available with multiple ingredient options. Cost-effectiveness is another aspect that drives the growth of this market.
Protein levels in finisher feed vary by different shrimp species
Finisher feed is usually administered to fully-grown fish species. Finisher feed ensures a balanced diet and supports muscle growth alongside higher nutrient absorption. Alltechs survey on Global Aquaculture Feed Production Survey analyzed the average cost of finisher diets and concluded that finisher feeds had remarkably high costs in countries, such as South Korea, Japan, and Vietnam. Fishmeal and fish oil are some of the key ingredients used in finisher feeds. The finisher feed prepared for various species differs in terms of protein levels. The finisher feed fed to monodon species (tiger prawns) contains 38% of crude protein as opposed to the finisher feed for L.vannamei, which contains 32%–34% of crude protein.
Make an Inquiry @ https://www.marketsandmarkets.com/Enquiry_Before_BuyingNew.asp?id=1151
North America is projected to reach USD 2.4 billion during the forecast period.
The US was the dominant market for aquafeed in the North American region, having accounted for a share of 64.0% in 2020. The US also remains one of the worlds largest exporters of seafood products, exporting farm-raised trout & salmon largely to Canada and Mexico, and oysters & clams to Canada. It is also the second-largest seafood importer from Asia Pacific countries. Aquafeed consumption is increasing slowly in the US due to the growing demand for fish for direct human consumption (DHC). Apart from being the leading consumer of aquafeed, it also exports to South American and Asian countries.
The key players in this market include Cargill, Incorporated (US), ADM (US), Nutreco N.V. (Netherlands), and Ridley Corporation Ltd. (Australia).